Who can use this feature?
👤 Available on all plans.
You can embed Google Maps into the detail layout of your app.
Get embed link from Google Maps
Enter the address of the place you want to embed into your app

Go to the Menu section on Google maps

From the Menu Choose "Share" then "Embed a Map"

Click on the copy html from the embed tab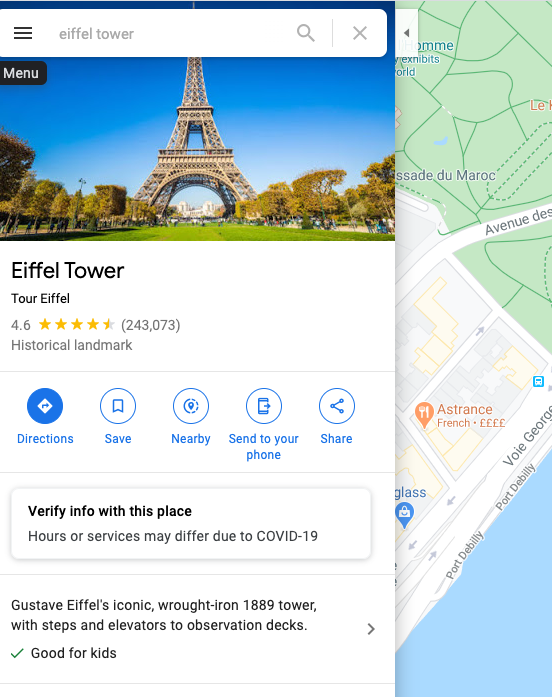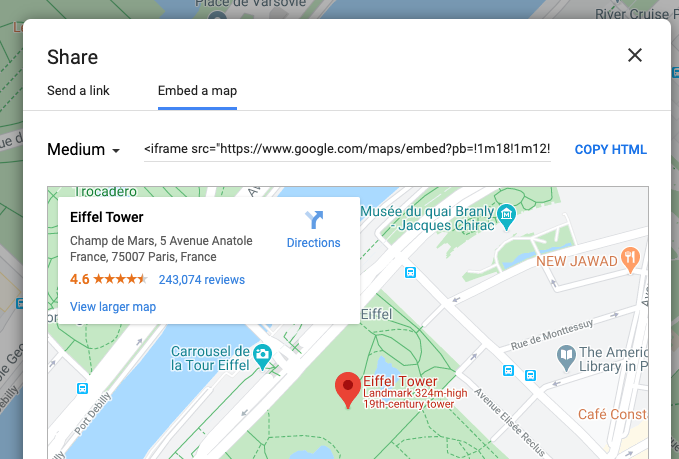 Remove the <iframe> from the link, you only need the url for this to work.
There is currently a bug in Google maps that does not allow you to embed the name of a location. It has to be the address.
For example typing in a location like Eiffel Tower, Paris and embedding that link will not work, you will get an invalid pb as an error message.

You need to copy the address and paste that into the search and copy the embed from there for this to work.

How to use the embed link
Once you have copied the embed link, there are two ways you can use this in your layout, either by adding this into a field on your datasource or pasting this directly into the embed widget.
Click in detail layout
Click Edit Layout
Drag embed widget into the layout
Select from field (if the embed URL has been added to the base)
Select from URL (if you want to paste the URL directly into Stacker)
Choose a title
Choose the height of the embed
You can also embed a map with multiple locations by creating one in your Google Account (Your Places > Maps > Create Map). Once you save the map and add any locations you want, you can use an embed link for it in your Stacker app. Note: The name of the Google Account will be listed above the map name.
Related articles